OPEN LETTER SENT TO THE JUSTICE MINISTER AND THE MEDIA:
October 17, 2017 The Honourable Mark Furey Nova Scotia Minister of Justice 425 King Street Bridgewater, Nova Scotia B4V 1B1 markfurey.mla@eastlink.ca
Dear Minister Furey,
Re: The Race to Restrict our Human Rights
Yesterday, the Nova Scotia Law Amendments Committee heard from seven different presenters about the issues, problems, and limits of the Adult Capacity and Decision-making Act (Bill 16). The new Act is meant to replace the outdated and especially restrictive Incompetent Persons Act, which the Nova Scotia Supreme Court struck down over a year ago.
The Law Amendments Committee is supposed to give consideration to any interested persons or organizations about the contents of Public Bills referred to the Committee after the Bill has received second reading in the house. Before the presenters were even back to their home bases, the Law Amendments Committee had voted to send the Bill back to the House without any changes.
The presentations ended at 10:30 am. By 12:20 pm, the first article about it was written and online stating that the Bill had passed second reading as is. That's less than two hours in total. That's less than fifteen minutes discussion of each presenter's information and objectives. It's less time than it takes to play a single period of a hockey game. It's less time than it takes to get your Tim Horton's on a busy workday morning. It's much less time than it takes to do the simplest tax form.
It's very little time for such a big issue. And, frankly, that's not what we would call consideration. The final reading will be today or tomorrow. The whole process to pass the Bill is happening in only two weeks. It's moving along at breakneck speed.
But that's not surprising for Nova Scotia is it? We are good at violating and limiting the rights of our citizens with intellectual disabilities. We are the province that institutionalizes more people with intellectual disabilities than any other province in Canada. We also boast a long list of human rights violations, poor treatment, assaults and deaths of those we put in our various institutions.
And here we are again – racing to the bottom as the worst in Canada. But of course the NS government does not see it this way. Minister Furey, you said that Bill 16 has the "elements of supported decision-making." But it really doesn't. The Bill does not empower court appointed representatives to support a person to have a decision-making authority in their lives. It only authorizes that court appointed representatives can make decisions for a person. Unbelievably, this includes making decisions about who a person can hang out with, or whether they can have a bank account. They can decide if a person can have a job or take part in a recreation program. They can even decide that a person should have invasive surgery and even medical experimentation.
We are beyond disappointed. We are devastated. We feel devalued. We feel left out and left behind. We thought this Bill was going to change the current reality. We didn't think this Bill was going to take away our right to make our own decisions just because we may need support to do so.
There are better options. Provinces and territories like British Columbia, Alberta, Saskatchewan, Manitoba and Yukon have managed to make it possible for people to have supported decision-making as an alternative to guardianship. Why can't we do this in Nova Scotia? Why do we only get 'elements' when 'actuals' are within our grasp and ability to legislate?
We are pleading with you Minister Furey to meet with us so that we can make this Bill right when it goes back to the legislature. Let's not win another race to the bottom. Let's try to rise to the top this time.
Sincerely,
Dave Kent                                                                                                                                   Kory Earle                                                                                    President People First Nova Scotia                                                                                      President People First of Canada
People First of Canada (PFC) is the national voice of people who have been labelled with an intellectual disability. For further information contact Shelley Fletcher, Executive Director for PFC. Phone: 204-784-7362 or by Email: sfletcher@peoplefirstofcanada.ca
People First Nova Scotia (PFNS) is a self advocacy group of members who have been labelled with an intellectual disability. For further information, contact Cindy Carruthers, Provincial Coordinator for PFNS. Phone: 902-893-3033 or by email: pfns2014@gmail.com
Here are links to stories on the "Adult Capacity and Decision Making Act":
Dave Kent, President of PFNS, presented in front of Law Amendments this morning, along with NSACL and other advocates, on the challenges with the draft legislature " Adult Capacity and decision Making. This legislature is meant to replace the old "Incompetency Act". Here is Dave's speech:
 My name is Dave Kent and I am the President of People First Nova Scotia. Our organization supports individuals who have been labelled with an intellectual disability to find their voice, speak for themselves and promote equality for all people who have been labelled with an intellectual disability. We believe in the Canadian Charter of Rights, Human Rights and the United Nations Convention on the Rights on Persons with Disabilities. We spoke out when Landon Webb challenged the old Nova Scotia Incompetency Act. We were encouraged when the courts found that act to be unconstitutional and the Nova Scotia government agreed. People First Nova Scotia was pleased to be asked to be involved in talks on the new act. We were disappointed in the new bill "Adult Capacity and Decision Making Act". The main problem with this bill is that it puts in place a substitute decision maker for a person instead of a supportive decision maker. Article 12 of the United Nations Convention on the Rights of Persons with Disabilities states that "proper measures shall be taken to provide access by persons with disabilities to the support they may require in exercising their legal capacity". This bill does not put any measures in place to provide support to the person to exercise their legal capacity. This bill does not protect the basic rights of Nova Scotians with intellectual disabilities. This is not what we were promised in the NS Government document, the "Roadmap". I outlined these concerns in my letter in early September to the Department of Justice, in response to a brief chance to review the draft law. People First of Canada's position paper on Legal Capacity was also sent. I have provided copies of these documents. Another problem with this new law is that all current guardian orders will stay in place. This means none of the individuals who were under guardianship will be reviewed. There could be another dozen Landon Webbs out there who would still be having their basic rights violated. No one is protecting their rights. Furthermore, there is no method to support adults who have had an application made, or their families, or professionals involved in the process. There is no supervision after a representative has been appointed. This means there is no way to ensure the rights of the individual are protected. We are concerned about the confusing process of capacity assessment, the tool to do it and training for those completing the work. It is scary that in this act a representative can get permission from the court to give consent for the adult to go through disturbing treatments that represent a violation of the adults' human rights. There is no reference of the United Nations Convention on the Rights of Persons with Disabilities in the Act. Canada was one of the first countries to ratify this international law and this is something that can make every Canadian proud. This new law should directly reflect international law and it should be identified right in the act. This new Act was meant to provide people with intellectual disabilities with protections. We are very disappointed that it seems more like the old, outdated act than anything else. Dave Kent President People First Nova Scotia
Organisations plan to educate police on response to special needs persons
Brenda Hardiman wants to prevent more special needs individuals from being unfairlycriminalized.  She is the Chairperson and co-founder of Advocating Parents of Nova Scotia(APNS), a non-profit organization that aides and support parents who have children withphysical and/or intellectual disabilities.
"We decided that Nova Scotia needed something like Advocating Parents with families that were having problems navigating community services and health," she said. "They could contact us and we could help them with that because both of us have already been through it."
Hardiman founded the organization with another parent in 2014 after her daughter,Nichele Benn, was charged with assault by a staff member at the Quest Regional Rehabilitation Centre where she was a resident. Benn has since been moved to a small options home, but Hardiman says it's a lack of compassion and understanding that causes people to criminalize persons with special needs.
"In today's world, people with intellectual disabilities are quite often segregated and isolated from the general public," she said. "People are not exposed enough to various abilities and disabilities, so when they do see somebody or have contact with somebody who has an intellectual disability, it frightens them."
To resolve this, Hardiman is partnering with Peoples First Nova Scotia (PFNS), an advocacy group for people with intellectual disabilities, and Archie Kaiser, a Dalhousie law professor who specializes in mental disability law. They plan to create educational literature for local police, lawyers, judges and others who regularly interact with special needs individuals.
The idea was inspired by Dave Kent, President of the Board at PFNS, and his experience with the local Truro police two months ago. He was stopped on the street by police officers who accused him of drinking and refused to believe Kent when he explained it was his medication for bi-polar disorder and schizophrenia that affected his walking.
"They gave me a breathalyzer and nothing showed up. Then they followed me home," said Kent. "What they put me through that night made me nervous. I thought they were taking me to jail."
Cindy Carruthers, the executive director of PFNS, says Kent's story is one of many that happen daily and it's not just with law enforcement.
"Many lawyers struggle with these cases when they have people with intellectual disabilities coming to them, needing support," said Carruthers. "Through lack of knowledge, they often suggest 'just plead guilty' because they don't know how to support them. Whether they're innocent or guilty, it's often just the recommendation to plead guilty."
Though Halifax Regional Police train officers on how to respond to calls that involve individuals with special needs, Hardiman believes there's still a lack of knowledge in the policing community.
The training program was made with the assistance of Mental Health Mobile Crisis Team (MHMCT).
According to the Department of Community Services, in 2015 there were 1,153 clients in small option homes and 189 clients in regional rehabilitation centres. Individuals with complex needs can cost upwards of $250K-$1M every year for each case. These cases has increased by an average of 17% every year in the last 4 years.
Individuals with complex needs can cost upwards of $250K-$1M every year for each case. These cases has increased by an average of 17% every year in the last 4 years.
Hardiman said although people with intellectual disabilities can commit crimes, incidences involving special needs individuals should be viewed as a health issue and not a criminal issue.
"The legal system is meant to be punitive for people, but for the people that can't learn a lesson there's no point in making it punitive," Hardiman said. "If people could just stop and think how they would treat their own family member if they had an intellectual disability, they would be a little bit different."
Though the educational package is still in the beginning stages, Hardiman and PFNS are confident it would be a success. They plan on launching the package next spring.
"I think you would find most individuals with intellectual disabilities and special needs are fearful of the police," said Carruthers. "We would like to try to change that a little bit so that they can see them as someone who can help them and not someone to be feared."
PEOPLE FIRST NOVA SCOTIA hosted their 27TH ANNUAL CONFERENCE AND AGM on April 30th and May 1 in Windsor Nova Scotia.The new Executive for PFNS is:    DAVE KENT – PresidentALAN HARRIS -Vice PresidentDONNA SPARKS – Treasurer
JEANNIE WHIDDEN -Secretary
DONNA MURPHY – past President
Congratulations to the New Executive!
There were about 70 delegates at the Conference and they enjoyed sessions on "Friendship". There was a Banquet, Dance and Silent Auction on Saturday evening. The Annual General Meeting was held on Sunday and the new Executive met with the Board at their first Board meeting immediately after the AGM.
Landon Webb Case- N.S. Vows to Probe Competency Act
Justice Minister Diana Whalen committed Tuesday to examining Nova Scotia's Incompetent Persons Act, and that could mean good things for the rights of disabled people in this province, says a Dalhousie University law professor.
Archie Kaiser, whose areas of expertise include criminal and mental disability law, says Whalen has "a real opportunity to become a leader here."
Whalen told reporters she just recently heard the story of Landon Webb and intended to look into Kaiser's suggestion that the act used to give Webb's parents guardianship over him is antiquated and badly in need of replacement.
Webb, 25, was the subject of a number of missing-person reports after he left the Kings Regional Rehabilitation Centre in Waterville in October.
Under the Incompetent Persons Act, he is unable to live independently without the permission of his parents. He is now living in a locked facility in Lower Sackville.
Webb has told The Chronicle Herald he is capable of looking after himself and wants to live and work in the Pictou County community where he grew up.
Whalen said she would ask the ministers of health and community services to take part in deliberations concerning the act.
"We're committing to having a closer look and examining and seeing what's needed," she said.
Kaiser said Tuesday she doesn't have to look far.
"In this case, the modernization and improvement that she has said she is interested in will require the repeal of the current Incompetent Persons Act, as recommended 20 years ago by the Nova Scotia Law Reform Commission," he said.
"Fortunately, their recommendations, legislation from other provinces and the (UN) Convention on the Rights of Persons with Disabilities provide a clear sense of the direction that any new law will need to take."
Earlier in the day, Health Minister Leo Glavine said legislation does become dated. He suggested the time has come for an examination of the act.
"Sometimes it takes one case such as the one we see developing now in the province," said Glavine.
Moreover, he said, since each person develops at their own pace, no one can make a final determination on anyone until at least the age of 25.
Meanwhile, People First Nova Scotia, a self-advocacy group for people labelled with an intellectual disability, has come out in support of Webb.
During a telephone interview Tuesday, the vice-president of the group said he sees himself in Webb.
"This is what I believe: Landon's story sounds like my own and now I live out on my own in my own apartment and I have friends and family and lots of support," said Dave Kent.
"It means the world to me."
He said it is important for people to understand there are people in this world who might need supports to live independently, but they don't need to be locked up.
Charlie Lemon, one of the founding members of People First Nova Scotia, took part in the interview with Kent.
"I was locked up in an institution and didn't have any rights and then I went into a group home and the staff there made the decisions," Lemon said.
"Then I came to Dartmouth and applied for a job at a pizza shop and I've been working over 20 years at the pizza shop."
He now lives in an apartment above the pizza store and says he wants for nothing.
"There are many success stories and many who are living successfully across the province and others who are in institutions, but they all have different abilities," said Cindy Carruthers, executive director of the group.
"We have members of People First Nova Scotia who drive their own cars, who are married with children. Everyone must be given a chance to live their lives."
Position on Article 19
Press release
For immediate release

1April, 2015
UN Human Rights Council Endorses Inclusion International's Position on Article 19
On 27 March, at the UN in Geneva, Switzerland, the UN Human Rights Council (HRC) approved a resolution on the right of persons with disabilities to be included in the community.
The HRC, which heard from Inclusion International Council member and self-advocate Quincy Mwiya at their annual debate on the rights of persons with disabilities, echoed Inclusion International's report on Article 19 with the recognition of the link between the right to live in the community and the right to make decisions. Further, the HRC explicitly supported the need for deinstitutionalization.
The joint resolution, introduced by Mexico and New Zealand, and co-sponsored by 50 other states, reflects the position in II's Global Report, Inclusive Communities = Stronger Communities.  Specifically, the report, issued in October 2012, highlighted the need for people with intellectual disabilities to have choice;support and community inclusion.  Choice about where and with whom one lives; supports for individuals and families and communities (education systems, health systems, recreation, transportation etc) organize themselves in inclusive ways.
II applauds the HRC for their understanding on what is required to secure the right to live and be included in the community and welcomes the resolution.
Inclusion International's Global Report Inclusive Communities = Stronger Communities can be viewed online at http://inclusion-international.org/living-in-community/
Cuts impact community groups' ability to operate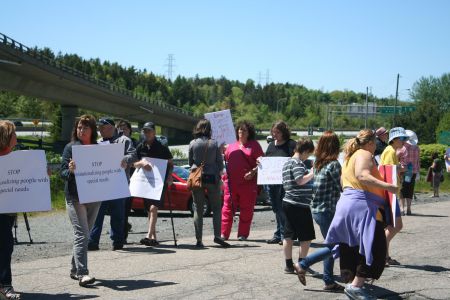 Some of the groups facing cuts in Community Services grants have been critical of the department in the past. People First and the NSACL believe that people living with intellectual disabilities should not be warehoused in large institutions. Photo Robert Devet
KJIPUKTUK, (HALIFAX) – Reduced financial support by the Department of Community Services makes it difficult for at least some community groups to continue to operate.
Groups like the Nova Scotia chapter of the Canadian Mental Health Association, the Canadian National Institute for the Blind, the Metro Food Bank, the Nova Scotia Association for Community Living and People First are all affected.
People First Nova Scotia, a self-advocacy group for people labeled with an intellectual disability, is directly impacted by the round of cuts to discretionary grants. Their $67,000 annual grant will be reduced by $20,000 this year.
That grant constitutes the lion's share of the money that allows the small organization to run an office and a staff of one, explains People First vice president David Kent.
"I was pretty disturbed when I heard this news," said Kent. "It made me feel sick to the stomach, knowing that they were cutting organizations for people with intellectual disabilities like People First and the Association for Community Living and everybody else."
People First is unique in Nova Scotia in that it provides a first voice perspective on the plight of people labeled as living with intellectual disabilities. The group's motto is nothing about us without us.
The Nova Scotia chapter, with its seven community chapters and active membership, is one of the most vibrant in the country.
The group has been critical of the Department of Community Services in the past because it continues to institutionalize people with intellectual disabilities and because promised changes in approach at times seem slow to come. .
"We are independent and we speak up for ourselves," says Kent. "We need our small office and staff to help us with the work. Members can't step up an do the work of the staff, because our members have disabilities."
The Nova Scotia Association for Community Living (NSACL) is another victim of the department's cuts. The group shares many of People First's objectives.
Like People First, the organization has been critical of Community Services policies and practices in the past.
Now the group faces a $24,000 annual cut to an original $79,000 grant.
That hurts, especially because it comes right on the heels of a federal decision to stop its annual support for the organization entirely, explains Jean Coleman, executive director of the NSACL.
"Our funding is cut by 30 percent and that will affect the way we can support people with intellectual disabilities in Nova Scotia," says Coleman. "It will have a huge impact."
Community Minister Joanne Bernard is shrugging it off.
"I'm not looking at funding advocacy groups which some of these are," she tells a CBC reporter.
"I'm not looking at funding national organizations that have millions of dollars in bank accounts nationally that they can filter down into the provinces as need be," Bernard says, alluding to the Canadian National Institute of the Blind.
Clearly those millions of dollars in bank accounts are not available to the NSACL and People First
Say 'No' to Segregation on Nova Scotia Petition
https://www.change.org/p/minister-karen-casey-and-premier-mcneil-sarecruiter=7407552&utm_source=share_petition&utm_medium=facebook&utm_campaign=share_facebook_responsive&utm_term=des-md-no_src-no_msg
Advocating Parents of Nova Scotia
The report of the Minister's Panel on Education calls for segregated, self-contained  (or "congregated") settings that could take children with a wide variety of disability labels out of our classrooms, our schools, and our communities.
It also suggests narrowing the curriculum to focus on Literacy and Math in the elementary years, leaving fewer entry points for those who have different educational strengths, such as the arts or sports.
We believe that the education of children who are diverse learners is too complex an issue to be addressed by just a few recommendations. We are particularly concerned by the suggestion of segregation. Excluding children who are not 'typical' from their classrooms would set our education system and our communities back some 20 or 30 years and would be in contradiction to Section 15 of the Canadian Charter of Rights and Freedoms and Article 24 of the UN Convention on the Rights of Persons with Disabilities.
An independent report into the ways that our education system can work for all – conducted by experts in education for diverse learners, constitutional law, and disability issues, and including input from the Human Rights Commission, the Special Educational Programs and Services Committee, First Nations communities, the African Canadian community, Disability Community, disabled learners and parent voice, – is crucial before any further steps are taken.
We, the undersigned, call on you to set up a representative committee to develop an independent action plan as outlined above. We value the diversity in our communities and we ask you to do the same.
Below is a link to a CBC radio interview with Tracey Willams, CEO of the Human Rights Commission, as she expresses her concerns about the Minister of Education's report. The interview is from 1:00 to 6:00 – please have a listen.
http://www.cbc.ca/…/school-segregation-family-dinners-isis…/
Comments on this story are moderated according to our Submission Guidelines. Comments are welcome…
Calling the Cops by Robert Devet (Halifax Media Co-op)
Brenda Hardiman (Advocating Parents of Nova Scotia) and Cindy Carruthers respond to RCMP finding of not guilty for Quest resident following death of Gordon Longphee/more incidents at Quest/highlighting "Freedom Tour Nova Scotia"
(News 95.7- July 15th, 2014)
***The piece is from 28:21 to 36:30***
Twelve attacks in twelve days at Quest, according to parents' group
(Cbc, Mainstreet, July 15th, 2014)
Last week, RCMP announced there will be no charges in the death of a resident at the Quest Regional Rehabilitation Centre, in Lower Sackville. But a group called Advocating Parents of Nova Scotia says it's still worried about the safety of residents there
http://www.cbc.ca/player/Shows/ID/2474190373/
Global News, July 11th 2014
***The piece about Gordon Longphee is from 3:05 to 5:52. The piece about the Freedom Tour is from 5:52 to 6:57.***
MLA upset over stop to renovations at Riverview home
(Pictou Advocate-July 16th, 2014)
External body to review Sackville special-care home where resident died: minister
(metro news, July 13th, 2014)
An independent body will review the practices of a special-care home in Lower Sackville where a resident died in May following an altercation in a hallway, Nova Scotia's community services minister said Friday. Joanne Bernard told a news conference the province and the Quest Regional Rehabilitation Centre will find an independent agency to conduct a so-called best-practices review. Earlier in the day, police announced they will not be laying charges following an investigation into the death at Quest, which houses adults with intellectual disabilities and other complex needs.
The RCMP said the 28-year-old man who pushed Gordon Longphee to the floor on May 11 will not be charged because he was not able to form intent. Police said 56-year-old Longphee, who died in hospital on May 17, had pre-existing conditions that played a role in his death, which was deemed a homicide. Bernard said an internal investigation under the Protection for Persons in Care Act found Longphee and another resident were in a hallway with staff members when there was "physical contact" and "one pushed the other." The minister said proper safety protocols were being followed at the time. "This was a tragic accident and without intent to harm and therefore no directives will be issued related to the incident," she said.
Bernard went on to suggest that aggressive behaviour can be expected when adults with intellectual disabilities who have complex needs are housed together. "Each individual has extremely complex and unique health and behavioural conditions and can pose a risk to themselves or others," she said. "The potential for aggressive behaviours is always possible, no matter how many safety protocols are in place." The board of directors at Quest issued a statement saying the institution "will be pursuing additional resources to evaluate and improve our safety and security responses within all Quest services." Soon after Longphee died, the mothers of four adult children living at Quest called for an independent probe into its operations. Brenda Hardiman was one of them. Hardiman said her daughter, 27-year-old Nichele Benn, has been assaulted at least five times in last 18 months, and she said other residents of Quest are experiencing the same level of violence. The problem isn't safety protocols and best practices, it's the institution itself, she said. "The institution needs to be held accountable for the lack of supervision that allows these instances to happen," Hardiman, chairwoman of Advocating Parents of Nova Scotia, said Friday.
She said the province's Liberal government should end all referrals to Quest and other special-care homes and expedite placement of residents into the community through small-option homes, which provide support for three to four people with disabilities in community homes. Bernard said she is committed to moving away from the institutional model, but she said that will take time, citing a "road map" for change that is spread out over the next five to 10 years. Hardiman said that's not good enough. "When deaths are involved, it's time to step things up a bit," she said. "Close the institutions sooner rather than later." Cindy Carruthers, a co-ordinator with People First Nova Scotia, agreed. "Most other provinces in Canada have de-institutionalized," she said. "These large institutions are not effective. They exacerbate assaults and abuse. We would like to see them closed." Carruthers said the problems with violence at Quest and other special-needs institutions is not new, citing a series of media reports that raised concerns in 2009. In the meantime, Carruthers said she would like to see a more effective safety strategy at Quest, something she hopes the independent review will address.
Get People in the Community, Group Says
(The Yarmouth County Vanguard, June 3rd, 2014)
Story and Picture by Eric Bourque
Bonnie and Harold MacDonald (seated, left and right, respectively) are members of People First Nova Scotia. Donna Murphy (standing, left) is president of People First Nova Scotia and Joan Paquette (standing, right) is provincial adviser for the organization. Among those featured in a new film about life in institutions is a Yarmouth couple – Bonnie and Harold MacDonald – who used to live in one. The two are members of People First Nova Scotia, which has come out with a video called Freedom Tour Nova Scotia, a film PFNS president Donna Murphy, also a Yarmouth resident, says deserves to be seen. "There are some parts that are hard to watch," Murphy said, "but it has to be watched to get the message across."
And the message from People First Nova Scotia is that persons with intellectual disabilities should be living in the community – with proper supports in place — and that they should not be institutionalized. Like Murphy and others with the organization, Bonnie MacDonald says people should have a chance to reside in the community. She cites her own experience when making her point. Institutionalized as a child, she said, "It wasn't very good at all … It was hard." The Nova Scotia government says it is working on getting more people out of institutions and into the community, which is good, says Joan Paquette, provincial adviser for PFNS, but she says progress has slowed in recent years. "There were some community options developed and they've been really successful," she said, "but, unfortunately, there are still people living in institutions." She says local success stories – examples of how community integration works well – include the Yarmouth Association for Community Residential Options, where Paquette used to work, and the Shanty Café. "Right here in town there's been some really good things happening and I think they'll continue to happen," she said. Murphy, the PFNS president, says she's glad to have a chance to speak for those people who perhaps can't.
"This is our number-one priority, closing institutions," she said, "and for people to come out, with support, to be able to get their own apartments where they want to live and to be with who they want to be with. They can get a job. Definitely with supports. It's not going to be an easy thing to do, but we definitely want them to get out." Paquette says Nova Scotia is far behind other parts of Canada on this issue. On a positive note, she cites the example of Bonnie and Harold MacDonald to show how community integration is the better way to go. "It can work," she said. "It really can work."
People First Nova Scotia Letter to The RCMP
Letter from People First Yarmouth to RCMP. June 13,2014
WAREHOUSED
University of King's College journalism students investigate Nova Scotia's housing system for people who have been labelled with intellectual disabilities:

http://housing.kingsjournalism.com/
'I don't want them to be in a prison-like environment':  Protesters at Breton Ability Centre call for province to move away from institutional model of care
(NG News, June 9th, 2014)
SYDNEY RIVER — A Cape Breton mother of two special needs children said she worries about their future each and every day.
Cindy Carruthers, a spokeswoman with People First Nova Scotia, left, talks with other protesters during a demonstration against institutional facilities, Sunday outside the Breton Ability Centre in Sydney. Laura Jean Grant – Cape Breton Post
"I worry more about the future than I worry about today because at least right now I'm here to help them," Lisa Bond said of her two kids Zavier, 7, and Zander, 9.
Zavier is autistic and has other medical issues, and Zander has been diagnosed with attention deficit hyperactivity disorder, involuntary movement disorder and some learning disabilities.
"I don't know if they'll ever be able to live on their own — I hope they will but time will tell. If they can't (live on their own), there's going to be a day when I'm gone and I don't want them to be in a prison-like environment," said Bond, one of about 10 people who gathered outside the Breton Ability Centre Sunday afternoon, protesting the fact that institutions like it still exist.
A resident of Florence, Bond said she wants her children to eventually find a place to "live, not survive" and hopes they are able to find meaningful work.
"They may have special needs but they also have special abilities and there's no reason for them to be confined away from the community," she said.
Two groups, Advocating Parents of Nova Scotia and People First Nova Scotia, organized the Sunday protest outside the Breton Ability Centre and another at Quest Society located in Lower Sackville — two of six facilities in the province that they feel do not provide a positive environment for its residents.
Truro area resident Cindy Carruthers, a spokeswoman with People First Nova Scotia, said she was in Sydney to speak out for people with intellectual disabilities.
"They are full citizens and they deserve the things that we as citizens expect and appreciate such as living in your community, having your own place, having the freedoms to meet with a friend and have a coffee at Tim's, have an animal, go for a walk — basic liberties that they do not have at institutions," she said.
Carruthers, who has worked with people with disabilities for 25 years, said most regions of Canada are moving away from the institutional model of care but Nova Scotia lags behind.
"The alternative is already out there in the community. We have many successful small options homes and group homes. We have people living and working under the independent living program, we have alternative families, we've got lots of success stories out there but it's not available to everybody, and all we're asking for is let's have some consistency for our citizens," said Carruthers.
According to its website, the Breton Ability Centre provides quality services to people of varying disabilities and support them in learning and developing personal, social, vocational and educational skills to enable them to transition to other community living options and participate actively in their communities.
An official with the Breton Ability Centre wasn't immediately available for comment Sunday afternoon.
Freedom Tour CBC Radio Interview May 27th, 2014
Violent death of Quest resident part of a double tragedy
(Halifax Media Co-op May 20th, 2014)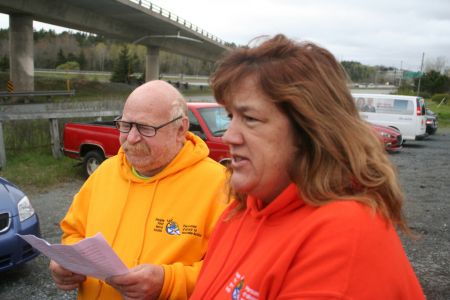 The violent death of a resident of Quest Regional Rehabilitation Centre in Lower Sackville is causing advocates to ask for an immediate closure of large institutions. Charlie Lemon, past president of People First Nova Scotia, and Cindy Carruthers, a coordinator with the organization, spoke at a press conference held outside of the Quest facilities. Photo Robert Devet
K'JIPUKTUK, HALIFAX – The violent death of a resident at the Quest Regional Rehabilitation Centre in Lower Sackville has parents, activists and self advocates worried and saddened. On May 11th an alleged assault occurred at the institution. An attack by a felllow resident left Gordon James Longphee, a 56-year-old man, in intensive care with critical injuries. Today it was announced that Longphee has died. At a hastily called press conference outside of the Quest building Brenda Hardiman, co-founder of Advocating Parents of Nova Scotia (APNS), a support organization for parents of children with intellectual disabilities, called the death of Longphee part of a double tragedy." "The other tragedy in this devastating situation is that a person could well face criminal charges," Hardiman said. "APNS believes that both the [provincial] Department of Community Services and Quest should shoulder some responsibility for events that take place in their facility." Hardiman is the mother of Nichele Benn, who currently is a resident of Quest. Benn faces assault charges for attacking a staff member of the institution.
Supporters of Benn argue that she suffers an organic brain disorder that causes her aggressive episodes and that she, and others like her, do not belong in the criminal justice system. "To think of the senseless death and to think that there could be criminal charges… We want institutions closed and small option homes with proper staffing established," said Hardiman. Small option homes typically accommodate as few as three residents and are located in the community. "Staff do what they can with the resources they are provided. But there are just too many people living here," said Hardiman. Hardiman believes that resident-to-resident violence is a much more frequent occurrence than Quest and Community Services are willing to admit. She wonders why it took Quest four days to call in the police and has little faith in an investigation initiated by Community Services. " That's like the RCMP investigating the RCMP," she said. "I think an independent body needs to come in." Charlie Lemon is a past president and founding member of the Nova Scotia chapter of People First, a group of self advocates for those who have been labeled as living with intellectual disabilities. Their motto is "Nothing about us without us."
Lemon lived in a large institution for years but now has his own apartment and works at a pizza shop. "I am very upset about this death," Lemon told reporters.  "A large group of people forced to live in institutions against their will, that will cause problems like this." "People First members believe that people should not be locked away in institutions. They have a right to live in a home, in a community of their choosing," said Lemon. Cindy Carruthers, Administrative Support Coordinator for People First Nova Scotia agrees. "Many of our People First members lived in institutions, and they are all very successful out in their own communities," Carruthers says. "Some receive special supports but they live independently, working or doing volunteer work, having friends, and having what every other Nova Scotian enjoys – choice, equality and the ability to interact with your community."
Lemon, Carruthers and Hardiman all expressed support for a Community Services roadmap that sees large institutions entirely eliminated over the next ten years. But even a proposed moratorium on new intakes by the spring of 2015 is not soon enough for them. "We want an shut down [of large institutions] and [more appropriate] places for these people established immediately," said Hardiman. "Parents all fear a phone call similar to the one the families received this week," Hardiman told reporters. " I worry every time I go to bed, especially lately. You think that [your child's] well being would be assured, but it is not."
NS Families Want Laws Changed to Stop Criminalizing People with Special Needs
Ethan Saylor's birthday is this week. On January 9th, Ethan would have been 27 years old. Sadly, Ethan cannot celebrate his birthday with his family because he died (this very week in 2013) at the hands of Frederick County Police Officers, after he refused to leave a movie theatre because he didn't have a ticket to watch the show a second time.We can honor Ethan by toasting his life. It would mean the world to his family and all those who believe in social justice.Please join us on your social networking channels and blogs to share why you love someone with Down syndrome and why their lives are of value. Use the hashtag #Toast4Ethan. Let others know who may want to join in as well.Feel free to share your links and tag the Justice for Ethan Facebook page: 

Justice For Ethan
Premier's announcement to look at the Nichele Benn case: